Rise of the Corporate Treasurer
Corporate Treasurer Rising | Global Finance Conference
As part of my job, I talk to corporate treasurers and treasury executives all the time. Back when I started with AFP in 2009, that wasn't such a pleasant task. Back then, nearly every member I spoke with was seriously stressed as a result of the financial crisis and severe recession. Those conversations went something like this: "My CEO wants to know where all our cash is—right now. But I don't even have visibility into our domestic cash, let alone our foreign operations."
The members persevered, however, shoring up their organization's short-term finances. That made their bosses and, ultimately shareholders, very happy. And that led to something else, something many treasury executives wanted for a very long time, but few enjoyed—an invitation into the board as a strategic partner to the organization.
The Corporate Treasurer Is Important to Management
It turns out that treasury executives performed so well in 2009 that senior management and the board of directors decided to include them in strategic planning because of their unique analytical skill set. No longer would corporate treasurers languish in the back of the office, processing payroll and paying bills. Now, the CEO and board wanted to know corporate treasurers' thoughts—and how much cash was on hand—as they moved to grow the company.
AFP research backs up this career development. According to our 2014 Strategic Role of Treasury survey, 84 percent of treasury executives say their role has expanded over the past five years, and 83 percent say their role will continue to expand over the next five years.
What's more, 63 percent say corporate treasury's expanded role is the result of the close attention that senior management and the board of directors now pay to liquidity and risk exposure. And three-quarters say corporate treasury enjoys strong access and visibility to the organization's executive committee/c-suite.
During a Crisis, Seek Out The Corporate Treasurer
One thing's clear. If senior management learned anything from the Great Recession, it was to get very close with their corporate treasurer during an economic crisis. A good corporate treasurer can wring cash out of almost any corner of the company. When you're just trying to pay your bills and survive through the fiscal quarter, that's an absolutely essential skill.
With the new respect for corporate treasurers, however, come new challenges and new expectations. Treasury executives are working harder than ever to hire, train and retain great employees. Many have been handed other departments such as accounts payable and receivable, payroll, and real estate, information technology and even human resources. They're expected to understand these functions, and lead them to better results.
On top of all that, senior management expects corporate treasurers and treasury executives to keep an eye out for new threats, and be ready to pay for them. For many AFP members right now, that means figuring out how to buy more cyberinsurance and cybersecurity.
Treasury executives wouldn't have it any other way. When I speak to AFP members today, the conversation is very different than those that took place five years ago. "I'd love to talk," they tell me, "but I've got to present to my CFO, CEO and the board."
***********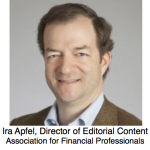 This post was contributed by Ira Apfel, Director of Editorial Content at Association for Financial Professionals and a Global Finance Conference guest blogger.
CFO and CEO speakers at the conference include:
This conference is for and about CFOs. If you're a CPA, CMA, CGA, Controller, Corporate Treasurer, Finance Manager or Finance Director, this conference is for you. If you're in the finance department, you must attend this conference. Corporate finance professionals and chartered accountants will benefit from this Toronto conference. Everyone in accounting will benefit from this conference.
For more information about the conference or if you're a Corporate Treasurer who wants more information, review the agenda, or contact Daintry Springer (by email), Chair, 2014 Global Finance Conference.