Microsoft – Emma Da Silva, CFO
Emma Da Silva, CFO at Microsoft
Emma is a panelist at The 2014 Global Finance Conference in Toronto, Oct 21-22. For more information about the conference review the agenda, or contact Daintry Springer (by email), Chair, 2014 Global Finance Conference.
Speaker Topic: Financial Benefits of Cloud Technology
What You Will Learn
Why a cloud platform allows the shifting of capital expenses to operating expenses
Why cloud technology reduces management costs
How it enables reduced time to innovation for a new product or service delivery
Emma Da Silva's Biography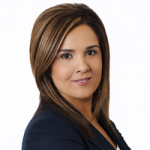 As the Chief Financial Officer of Microsoft Canada, Emma is focused on providing financial leadership to the subsidiary and driving shareholder value. She also plays a critical role in key strategic growth and profitability initiatives, and the organization's efforts to maintain a fully compliant culture.
Emma joined Microsoft Canada in 1994 with a degree in Accountancy from the University of Waterloo and later earned her Certified Management Accountant designation. She continues to have a long, successful career including numerous roles in the Canadian subsidiary across Finance, Sales, and Marketing. Her past roles include; Director of Sales for Mid Markets, Director of the Microsoft Office Division, and Director of Finance. She's led exciting initiatives like the launch of Office 2003, 2007, and 2010 in addition to Office 365 – driving the shift to a cloud first, mobile first world.
When she's not working, Emma enjoys spending time with her husband and two children Brianna and Brayden.
Emma is a speaker at the 2014 Global Finance Conference, representing Microsoft Canada. Other speakers at the conference include:
This conference is for and about CFOs. If you're a CPA, CMA, CGA, Controller, Treasurer, Finance Manager or Finance Director, this conference is for you. If you're in the finance department, you must attend this conference. Corporate finance professionals and chartered accountants will benefit from this Toronto conference. Everyone in accounting will benefit from this conference.